Bois Blanc Island airport has beautiful weather in the summer, and a nice little camping area. I just flew in and spent a night there. It can be a little tough to find information about their camping setup, so here's a quick rundown.
The runway is paved and in great condition. There is no fuel, attendant, or maintenance service there.
There's a small paved area for aircraft parking, with tie downs in the grass off the east and west sides of the payment. Little wind was forecast during our stay, so instead of tying down, we kept the wheels on the pavement and chocked them.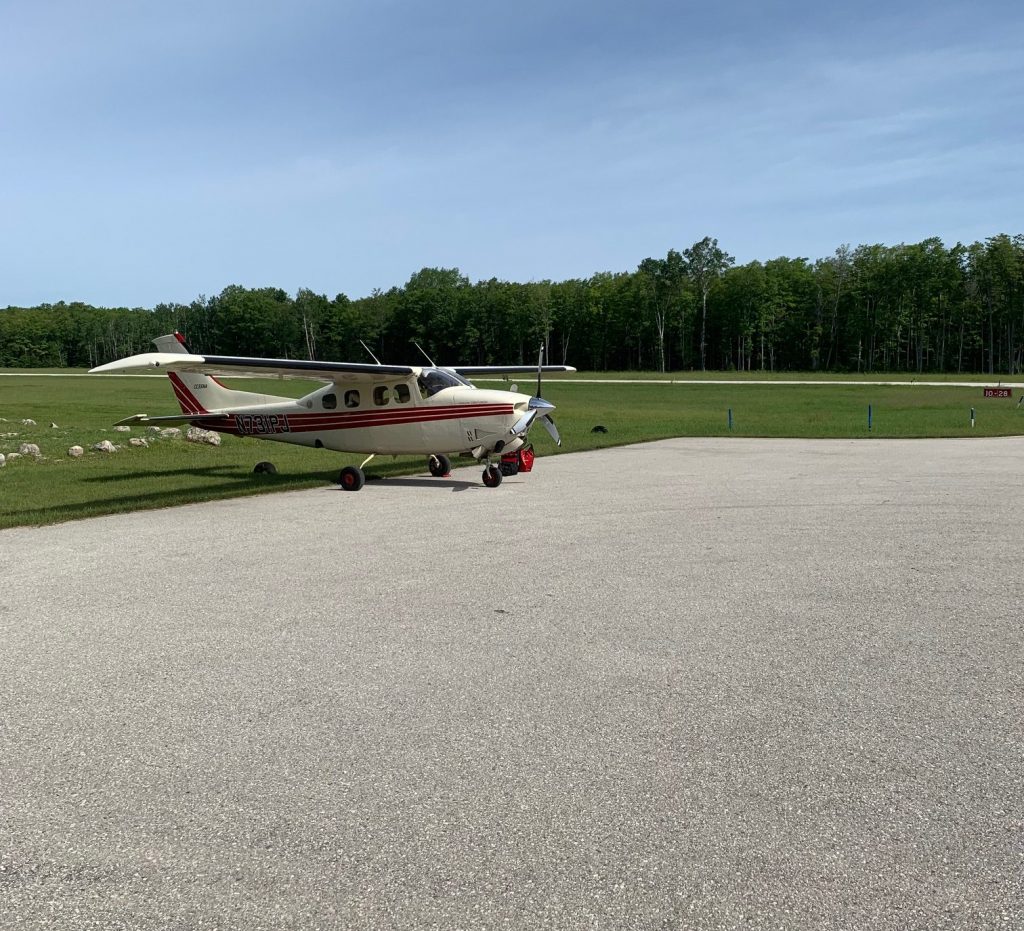 A few minutes after parking, the mosquitos found us. Most important Bois Blanc camping note: Bring bug spray. We hit them with chemical warfare the whole time we were there, and they still won a few rounds. Didn't spoil our time, but definitely a factor in the month of June at least. I'm told they are normally bad, and this particular year they were worse than usual.
There's a nicely-appointed camping area near the South-West corner of the gravel (car) parking lot. It has a fire ring, two nice picnic tables, a hand pump water well, and an outhouse. Ground was soft and mossy where we set our tent. The water from the hand pump is drinkable, but looked a bit cloudy, so we stuck with drinking water we brought with us.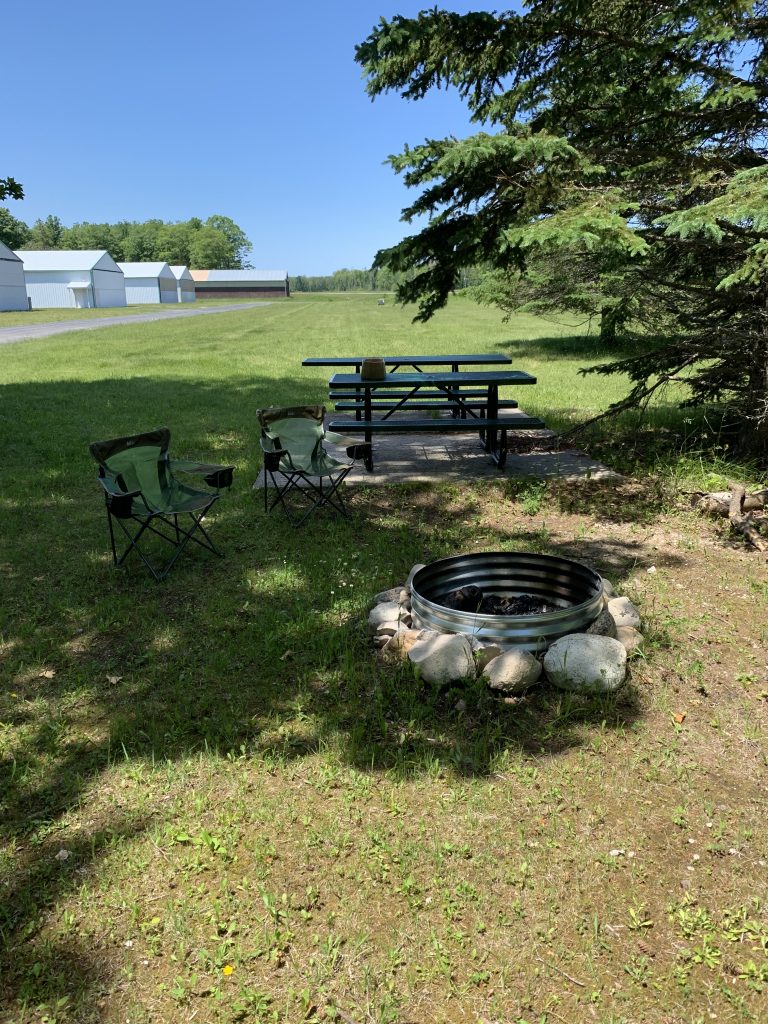 The airport terminal building was unlocked, and has one restroom. Way nicer than the outhouse. (Mosquitoes lurk in the outhouse, I think they figure you have to go in there eventually. Trust me, use the indoor bathroom if you can.) During our stay nobody locked the terminal — we had access all night. But don't know if that's normal or not.

Before lighting a campfire you need to obtain permission from the local fire department. Depending on dryness and winds that day they may or may not approve it. Call or text any of the fire department folks and they'll give you an answer. There's no physical permit, just a verbal permission.
Speaking of calling and texting, we had little to no cell signal at the airport from Verizon or AT&T. Near the west end of runway 28 it was a little better. As we bicycled toward the southern end of the island it also got better in spots.
Speaking of bicycling, we brought our Dahon folding bikes in the airplane. These have small and thin tires. The roads on the island are not paved, but they are well taken care of and on this day, dry enough to work ok. Mountain bike tires would be better.
There's a convenience store slash diner slash real estate office called Hawk's Landing. It's about a 4 mile bike ride into town. Not far past that is the city's marina, where the ferry docks. The ferry runs back and forth from the mainland a few times a day, depending on the month.
The airport has a green/white rotating beacon not far from the camping area. If you don't put your tent where the pine trees shade it from the beacon, it will flash on your tent all night long. Mesmerizing, or annoying, depending on who you ask.
The airport manager had apparently changed recently, and the position was vacant when we visited. It was hard to get ahold of anyone to answer questions. Eventually someone from the airport board called me back, and they were very friendly and helpful. You can give this page a shot to see if the latest airport manager info is posted.
All in all Bois Blanc is a great place to take the airplane and camp, when you want to get away from it all.